For those who are tied closely to the firearms industry or simple love firearms themselves, you will have noticed in the last decade the explosive growth and popularity of red dots; especially on pistols. With the addition of a new accessory to essentially your tool (for concealed carry, recreation, or hunting purposes), you additionally should receive adequate and proper training with it as well. It would be no different than carry a med kit in your vehicle. Preparedness is good, but preparedness without training is hollow. You need the skills in order to apply the tools properly. For all those reasons, there is no one I could more confidently recommend to teach all of us about red dots and pistol defense/marksmanship than Scott Jedlinski of Modern Samurai Project.
As a gun writer, I have been blessed and fortunate to meet, travel, and see all kinds of instructors and training methodologies. While I have skills in a plethora of shooting disciplines I will be the the first to tell you I am the best at none. Being exposed to so many instructors over the years it takes someone who is authentically a Jedi at their craft (Scott Jedlinski's affectionate nickname) to move the needle for me in my skills and training. One person who immediately did that was Scott – "Jedi" – from Modern Samurai Project.
I met him at an industry event in Texas the summer of 2020 as Trijicon was gearing up to announce the RMRcc micro red dot. Over the course of multiple days I was bombarded with little knowledge bombs that left me speechless. He moved the needle on my shooting skills so quickly I felt like our morning coffee was a cheat code to speed shooting with a red dot. Not just presenting quickly and mag dumping, but actually hitting a given target/targets under defined time parameters.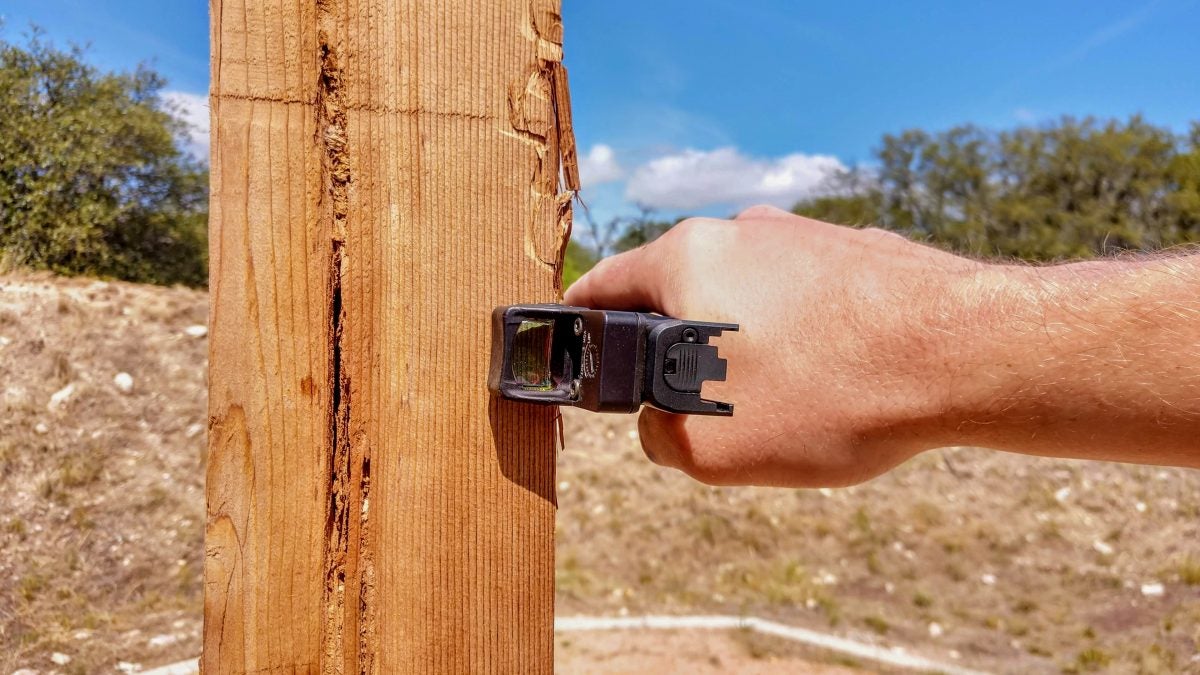 I was so impressed by Scott and his Modern Samurai Project teaching-style and curriculum that as soon as he was in my neck of the woods near Minnesota I attended one of his classes again out of my pocket; absolutely worth it. The 2nd time around I still learned a ton even though I had an idea of what I was walking into this time. The higher your level of training (or wherever you might deem yourself on the skills spectrum) Scott frankly, down-to-Earth, with no minced words tells you how to improve and apply training.
Great instructors aren't high school cheerleaders. It isn't all "rah, rah, rah." Sometimes you need a blunt instruction and that needed push from an instructor to get you to the outcome you are chasing. Then, Jedi's simple smile from a successfully executed drill feels like a million bucks. Jedi told me to kill this drill and I murdered it.
For all the anecdotal reasons I've mentioned, I wholeheartedly endorse attending one of the Modern Samurai Project classes if you have the time. You will assuredly learn a ton, and Scott and his staff are world-class. Check out their class schedule below. It sells out fast, but they also are constantly adding new classes as well. For any questions about training with Jedi or to be added to waitlists for sold out classes, please contact: [email protected]
Modern Samurai Project: Class Schedule – 2022
SOLD OUT! / February 5-6 / 2-Day RDS Pistol / Modern Outdoor Adventures / Tifton, GA
February 8-9 / 2-Day RDS Instructor / Coyote Arms / Edinburg, TX
JUST 5 SPOTS LEFT! / February 10-11 / 2-Day RDS Pistol / Coyote Arms / Edinburg, TX
February 14-15 / 2-Day RDS Pistol / LEO Only (Sworn Officers Only) / Southlake Police Department / Southlake, TX
SOLD OUT! / February 18-20 / AIWB + 2-Day RDS / Point 1 Tactics / Alpha Range / McHenry, IL
SOLD OUT! / February 22-23 / 2-Day RDS Instructor / LEO Only (Open to All LEOs) / Oak Lawn Police Department / Oak Lawn, IL
SOLD OUT! / February 25-27 / AIWB + 2-Day RDS / Raven Wing Limited / Exact Range TBD / Lake View Terrace, CA
---
March 1-2 / TTPOA / 2-Day RDS Instructor / Rockwall, TX (Dallas Area) / Sign up via TTPOA
SOLD OUT! / March 4-6 / AIWB + 2-Day RDS / Extreme Tactics & Training Solutions / Waxahachie, TX
March 8-9 / 2-Day RDS Instructor / Reality Defense / Pleasanton, TX
March 11-13 / AIWB + 2-Day RDS / Fort Bliss Rod & Gun Club / El Paso, TX
March 15-16 / 2-Day RDS Instructor / LEO Only (Open to All LEOs) / Pass Christian PD Range / Gulfport, MS
SOLD OUT! / March 19-20 / 2-Day RDS Pistol / Double Tapp Range / Boise, ID
SOLD OUT! / March 25-27 / Tac-Con / Rangemaster Tactical Conference / Dallas Pistol Club / Carrollton, TX
---
SOLD OUT! / April 1-3 / AIWB + 2-Day RDS / My Own Defender / Burro Canyon Shooting Park / Azusa, CA
April 5-6 / 2-Day RDS Pistol / LEO Only (Open to All LEOs) / The Bossier Parish Sheriff's Office Firing Range / Plain Dealing, LA
SOLD OUT! / April 8-10 / AIWB + 2-Day RDS / Practical Performance / Yavapai Range / Prescott, AZ
JUST 1 SPOT LEFT! / April 12-13 / 2-Day RDS Instructor (Open Enrollment) / Practical Performance / Yavapai Range / Prescott, AZ
SOLD OUT! / April 16-17 / 2-Day RDS Pistol / IMPACT Shooting Center / Cleves (Cincinnati) OH
SOLD OUT! / April 19 / AIWB / LEO/MIL/Credentialed Security Only (Open to All Three) / Golden Seal Enterprises / Winchester, VA
SOLD OUT! / April 20-21 / 2-Day RDS Instructor / LEO/MIL/Credentialed Security Only (Open to All Three) / Golden Seal Enterprises / Winchester, VA
JUST 3 SPOTS LEFT! / April 23-24 / 2-Day RDS Pistol / ShootLogic / Reevesville, SC
April 26-27 / 2-Day RDS Pistol / Hester Firearms Academy / Nettleton, MS
---
JUST 5 SPOTS LEFT! / April 29-May 1 / AIWB + 2-Day RDS Pistol / C4 Shooting & Training Center / Madison, OH
JUST 5 SPOTS LEFT! / May 4-5 / 2-Day RDS Instructor / LEO Only (Open to All LEOs) / Montgomery County Police Department / Poolesville, MD
JUST 4 SPOTS LEFT! / May 7-8 / 2-Day RDS Pistol / Royal Range USA / Nashville, TN
May 11-12 / 2-Day RDS Instructor / AGC / Little Rock, ARSOLD OUT! / May 14-15 / SPECIAL JOINT CLASS! MSP + Reston Group / 2-Day RDS Pistol Skills: Performance to Fighting / Angeles Shooting Ranges / Lake View Terrace, CA
May 18-19 / 2-Day RDS Instructor / LEO Only / Bloomington Police Training Range / Normal, IL
May 21-22 / 2-Day RDS Pistol / Crossroads Shooting Sports / Johnston (Des Moines), IA
May 24-25 / 2-Day RDS Instructor / LEO Only (Open to All LEOs) / The Bossier Parish Sheriff's Office Firing Range / Plain Dealing, LA
SOLD OUT! / May 27-29 / AIWB + 2-Day RDS / Ahlman's Gun Shop / Minneapolis, MN
---
June 6-10 / OTOA Conference (Ohio Tactical Officers Association) / Kalahari Resorts / Sandusky, OH
June 15-16 / 2-Day RDS Instructor / LEO Only (Open to All LEOs) / Sarpy County Sheriff's Office / Papillion, NE
June 18-19 / 2-Day RDS Pistol / Lubbock Shooting Complex / Lubbock, TXJune 21-22 / 2-Day RDS Instructor / TTPOA / Rockwall, TX (Dallas Area) / Register via TTPOA Website
June 25-26 / 2-Day RDS Pistol / Private Range / Blackfoot, ID
SOLD OUT! / June 28-29 / 2-Day RDS Instructor / Lee Sportsmen's Association / Lee, MA
---
July 2-3 / 2-Day RDS Instructor / The Complete Combatant / Dahlonega, GA (possible relocation to Georgia Mountain Shooting Association in Eastanollee, GA)
July 5-6 / 2-Day RDS Pistol / Point Blank Range / Matthews, NC
July 8-10 / AIWB + 2-Day RDS Pistol / Fortitude Consulting / Franklinville, NC
SOLD OUT! / July 15-17 / AIWB + 2-Day RDS Pistol / JTAC Range / Anchorage, AK
SOLD OUT! / July 20-21 / 2-Day RDS Pistol / Richmond Rod & Gun Club / Richmond, CA
July 23-24 / 2-Day RDS Pistol / LineBreak Training / Gunnison, CO
July 26-27 / 2-Day RDS Instructor / LEO/MIL Only (Open to All LEOs/MIL Active & Retired) / Oklahoma County Sheriff's Office Training Facility / Oklahoma City, OK
July 29-31 / AIWB + 2-Day RDS Pistol / Aurora Sportsmen's Club / Waterman, IL
---
August 2-3/ 2-Day RDS Pistol / Midwest Shooting Center / Cridersville, OH
August 6-7 / 2-Day RDS Pistol / Apache Solutions / Yadkinville, NC
August 9-10 / 2-Day RDS Instructor / Burnt Ridge Bow & Gun Club / Cowansville, PA
August 12-14 / AIWB + 2-Day RDS Pistol / IMPACT Shooting Center / Cleves, OH
JUST 4 SPOTS LEFT! / August 16-18 / AIWB + 2-Day RDS Pistol / Roll Call / Scranton, PA
August 20-21 / 2-Day RDS Pistol (Open Enrollment) / Lebanon City Police Range / Lebanon, IN
August 23-24 / 2-Day RDS Instructor (Open Enrollment) / Xenia Police Department Range / Xenia, OH
August 26-28 / AIWB + 2-Day RDS Pistol / Hosted by MDFI / Railside Ranch Range / Holland, MI
---
September 3-4 / 2-Day RDS Pistol / Richmond Rod & Gun Club / Richmond, CA
September 10-11 / 2-Day RDS Instructor / Fortitude Consulting / Franklinville, NC
September 13-14 / 2-Day RDS Instructor / LEO Only (Open to All LEOs) / Tuscaloosa Police Department / Tuscaloosa, AL
September 17-18 / 2-Day RDS Pistol / FireRidge Defense / Mount Gilead, OH
JUST 4 SPOTS LEFT! / September 20-21 / 2-Day RDS Pistol / TDI (Tactical Defense Institute) / West Union, OH
SOLD OUT! / September 24-25 / SPECIAL JOINT CLASS! MSP 1-Day Red Dot Pistol + Presscheck 1-Day No-Fail Pistol / Ethical Arms Range / Radcliffe, IA
---
September 30-October 2 / THE QUEST 2022: A Very Special 3-Day Event Featuring Brian Hill – Self Defense / Scott Jedlinski – Performance / Tim Herron – Competition / Dahlonega, GA Area
Register here: https://www.eventbrite.com/e/the-quest-2022-tickets-169718862687
October 4-5 / 2-Day RDS Instructor / TTPOA / Rockwall, TX (Dallas Area) / Register via TTPOA Website
October 7-9 / 1-Day AIWB + 2-Day RDS Pistol / AGC / Little Rock, AR
October 11-12 / 2-Day RDS / Gulfport, MS
October 15-16 / 2-Day RDS Instructor / IMPACT Shooting Center / Cleves, OH
October 18-19 / 2-Day RDS / Roll Call / Scranton, PA
SOLD OUT! / October 22-23 / 2-Day RDS Pistol / Green Ops / Culpeper, VA
October 25-26 / 2-Day RDS Instructor / Midwest Shooting Center / Fort Wayne, IN
October 29-30 / 2-Day RDS Instructor / Gryphon Group / Maxton, NC
---
November 2-3 / 2-Day RDS Pistol / LEO Only / Western Training Division / Banning, CA
November 5-6 / 2-Day RDS Instructor / Raven Wing Limited / Lake View Terrace, CA
November 8-9 / 2-Day RDS Instructor / Richmond Rod & Gun Club / Richmond, CA
November 12-13 / SPECIAL JOINT CLASS! MSP 1-Day Red Dot Pistol + Presscheck 1-Day No-Fail Pistol / Fortitude Consulting / Franklinville, NC