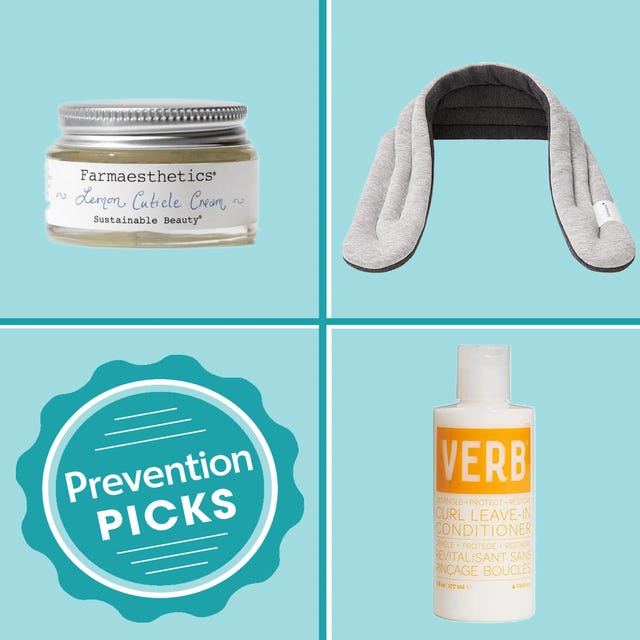 Amazon
At Prevention, we take pride in picking the best products for our readers. Our mission has always been to highlight top-rated, expert-backed selections that truly solve a problem for you, make your day easier, or bring joy to your life.
That's why we curate Prevention Picks each month, where our editors hand-select products that have genuinely made a difference in their lives. From brand-new launches to tried-and-true favorites, we shout out beauty products worth your money, fitness gear that will elevate your workouts, convenient gadgets for your home, tasty snacks that stand out from the rest, and so much more.
With a new season on the horizon, we're revamping pretty much everything in our lives—including food, skincare essentials, and workout gear! This month, we're celebrating the slightly warmer weather with top-rated items that will help you get a fresh start. You'll find a few everyday essentials, like a cult-favorite moisturizing leave-in conditioner (very much needed for the indoor heat and freezing outside temps that leave strands feeling dry and brittle), a garlic, cashew, and almond dip spread that tastes delicious, and an all-natural calming bath essence that leaves you smelling like a floral bouquet (it has a heady lavender scent).
We've also discovered new favorites that are great for both gifting and grabbing some for yourself, including versatile gym shoes that are stylish enough for everyday wear, a tote bag that will hold your laptop, wallet, water bottle, and more, and Greece-imported olive oil that has a spicy twist, thanks to its peppery flavor. Below, check out our 12 favorite finds and stock up before they sell out!
1 Moor Lavender Calming Bath Essence
"I love a good warm bath for relaxation, especially in chilly weather, and adding this botanical oil-based milk to the water brings it as close to a spa-quality experience as possible. It has a real, potent lavender scent thanks to high levels of the essential oil that instantly soothes senses, plus skin-nourishing ingredients like glycerin and sweet almond, avocado, and jojoba oils so skin is left feeling soft, not dehydrated like with bath salts or too greasy as it can be with bath oils. Heaven!"
— April Franzino, Beauty Director
2 Cervical Heat Pack
I've been having more neck pain than usual and am so glad to have my Ostrich Pillow Neck Wrap. It's this lovely flannelly-feeling perfectly shaped collar filled with little clay beads, which you can heat up or freeze to get hot or cold pain relief. You just stick it in the microwave for 30 seconds or in the freezer for an hour, and the beads retain the temperature—beats melting ice or patches that wear off quickly.
I wear it while meditating or when I just need a little hug and no one is around to give it to me—don't judge! It's also cool-looking, not medical, so it's a great gift for people who like to get pampered.
— Stephanie Dolgoff, Deputy Director, Health Newsroom
3 Tote Bag
I get complimented all the time on this bag, and whether I tell them it only cost $14 depends on how fancy I want them to think I am! This faux-leather tote is the perfect size: It holds my laptop (and cord!), a book, and my other necessities, and still has plenty of room for the random groceries or school projects or whatever else I end up gathering when I'm out. It isn't so enormous, though, that I can't find anything (note that there's only one inside pocket since… did I mention it's $14?!). It comes in literally dozens of colors, so go on, get two.
— Sarah Smith, Editor in Chief
4 Moisturizing Body Lotion
I'm prone to getting random dry patches of skin on my arms, especially in colder weather, but for the last few years, AmLactin has been my secret weapon in smoothing things out. While some of the brand's formulations are a little thick, AmLactin Daily is light and perfect for everyday use, whether you currently have dry splotches or just want to prevent them from forming. Bonus: It's fragrance-free and paraben-free. (It does contain an alpha-hydroxy acid, which may increase the risk of sunburn so you definitely don't want to skip sunscreen if you're using this product.)
— Kaitlyn Pirie, Senior Editor
5 Swift Icon Jet Black Bright White Sneakers
I've never really been a sneaker person outside of gym time, but these (incredibly comfortable!) sneakers have changed me. I know, so dramatic, but when I tell you they're my go-to for everything from a long walk to picnicking with my friends, I'm not lying. I now grab these pretty much every time I'm headed out the door. They're easy to slip on, surprisingly warm with a cozy knit upper, fit both my thick wool socks and thin gym socks, and did I mention are so. darn. comfortable? 10/10 Would recommend, and the brand offers a slew of styles and colorways so you're sure to find a pair that'll have you smitten.
— Emily Goldman, Senior Editor
6 Moisturizing Eye Bomb
My under-eyes are always the first place on my face that shows when I'm tired. Fortunately, I've found the perfect eye cream to keep them looking bright and moisturized!
The formula is made up of hydrating herbs and an elasticity-boosting pennywort ingredient, which instantly soothes my skin, giving off a more radiant look. The cooling texture also feels so good and it works great at prepping my eye area for a smooth crease-free makeup application.
— Shauna Beni, Associate Ecomm Editor
7 Cashew & Almond Dip Roasted Garlic Spread
You may know Hope Foods' hummus (oh, their thai-coconut-curry flavor is to die for), but here's another option for garlic lovers: their dip/spread/sauce made from cashews and almonds and loads of, yes, garlic. It'll elevate a bland veggie burger, spark up a turkey sandwich, even uplift those baby carrots in your veggie bin. Plus, it's dairy- and sugar-free, and vegan as well.
— Lisa Bain, Executive Director, Health Newsroom
8 Be Gentle, Be Kind Avocado + Kiwi Mega Moisture Superfood Mask
9 Curl Leave-In Conditioner
I've been dealing with static in my hair almost all winter. After trying everything from hair oils to leave-in conditioners to hair masks, this leave-in is the one that performs the best on my wavy, slightly frizzy hair. My strands finally started laying flat again after just one use. Post-shower, I like to place a dollop of it in my hand before running my fingers through my hair to apply it—then I let my hair air dry naturally. Come for the anti-static benefits of this leave-in; stay for soft, nourished, and truly moisturized hair. Plus, you'll smell like you've just stepped out of the salon without the hefty price tag.
— Catharine Malzahn, Beauty Assistant
10 Aromatherapy Pillow Mist with Natural Essential Oils
"I've been working on making bedtime a relaxing ritual—a nightly treat to myself, if you will. This pillow/room mist feels like an indulgence, and pairs perfectly with a cup of tea. The moment its eucalyptus and spearmint notes fill the room, I feel at peace. If only they made a bigger bottle!"
— Kayla Blanton, Freelance Writer
11 High-phenolic Olive Oil
I cook with olive oil almost exclusively because of the health benefits, and I'll usually opt for a moderately-priced extra virgin olive oil. But when I tried this kyoord high-phenolic olive oil I knew this was something spectacular. It's made in Corfu, Greece, and has an incredible, peppery flavor that you won't find in average olive oil. Sure, you could use it for your everyday cooking, but I found with the fantastic fruity and herbaceous flavor, I wanted to pour it into a shallow bowl with some spices and dip fresh bread into it. It's exquisite in a way most U.S. olive oils are not, and you'll want to drizzle a touch on everything you eat.
— Arielle Weg, Associate Editor
12 Jamaican Jerk Seasoning
Whether cooking is your hobby (or all-the-time pasttime!), everyone deserves a spice cabinet upgrade now and again. My own shelves were getting a little bare and it led me to my new favorite spice brand: The Spice House.
You can fulfill your need for the essentials, but there are also tons of ethnic blends and cultural mainstays you won't find on your grocery store shelves. I've been having fun with the fennel pollen, which I used to scent delicious butter cookies; porcini mushroom powder that created the most flavorful risotto of my life; all the chilis you can imagine; and togarashi, a Japanese staple that's perfect for sprinkling on everything from fish to rice to popcorn. If you like to experiment with new flavors and recipes but just can't choose (trust me—same problem!), I highly recommend giving the International Collection a shot.
— Alyssa Jung, Senior Editor
13 Intelligent Change x Chelsea Kauai Notes to Self Journal
"I received this beautiful journal from a friend, and it's become my addiction. Like most busy people, finding the time to journal and practice gratitude can be challenging, but with small prompts and an underwhelming amount of lines, this 'Notes to Self' book helps me reflect and get centered in just five minutes a day. It's filled with motivational quotes and inspo from other creators, and I find myself wanting to reach for it when I start my day."
–Nicol Natale, Freelance Writer
14 Lemon Cuticle Cream
As someone who tends to ignore their cuticles until there's a problem, this balm-like cuticle cream smells so amazing thanks to fresh lemon and lime peel oils and feels so buttery that I actually look forward to using it. I keep it on my desk, so I remember to apply it daily!
— April Franzino
This content is created and maintained by a third party, and imported onto this page to help users provide their email addresses. You may be able to find more information about this and similar content at piano.io