Well folks, we made it. And while 2021 taught us that simply turning a calendar page is no guarantee of brighter days, there are reasons to be optimistic about the new year. Just look at the knife and everyday carry world, where brands continue to push the envelope and very definitions of those terms.

This month brings such joys as a clever collab between two of our favorite four-letter brands, plus an innovative knife sharpener, a cool carabiner and a new fixed blade designed by Survivorman himself. Also is just us, or is every one of the following releases drop-dead gorgeous?
Give 'em a gander and, to paraphrase the great Charles De Mar: "Buck up, little camper. We'll beat this year… together."
CRKT Scribe Blackout With D2 Blade Steel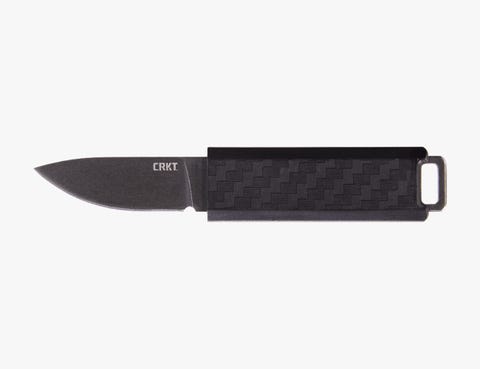 CRKT
Boise, Idaho-based knife designer T.J. Schwarz is known for crafting blades that offer more than meets the eye, and the Scribe is a perfect example. It hides in a pocket-clipped thermoplastic sheath that resembles a USB drive, until you need it. Then just pop off the cap, which attaches to the pummel to extend the handle, and you're ready to slice everything from apples to packages.

Price: $29.99
WESN x VSSL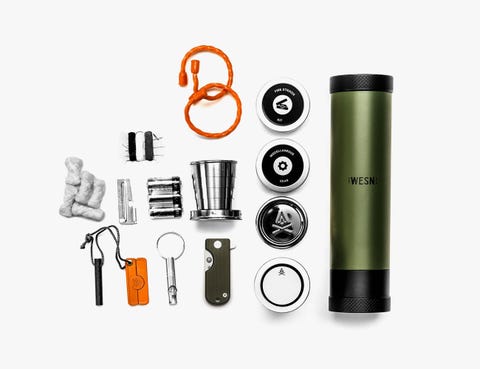 WESN
This super-limited $175 collab with compact kit maker VSSL is one of several WESN rolled out the past few weeks. Packing a fire starter, compass, collapsible shot glass, flashlight, WESN Microblade and assorted wilderness gear into one sleek cylinder, it's got everything you need for a weekend off the grid. No surprise it sold out fast, but you can sign up to be notified if/when it returns.
Bubba Ultra Knife Sharpener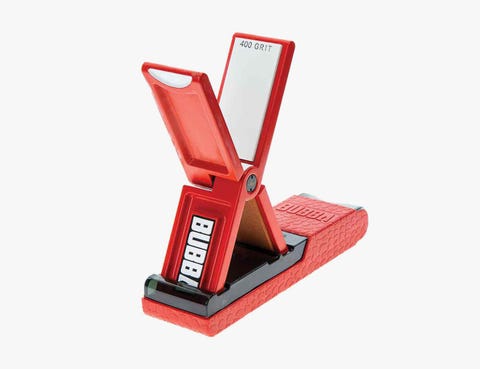 Bubba
This versatile, user-friendly gadget can of course produce a razor sharp 19-degree edge for Bubba's core product, fillet knives, but it can also adjust to 26 degrees for other blades, on either a medium 400 grit stone to a fine 180 grit. The bottom of the stand boasts a non-slip grip for sharpening on wet surfaces, and the whole things folds up into that stand, which doubles as a carrying case.
Price: $69.99
The James Brand The Redstone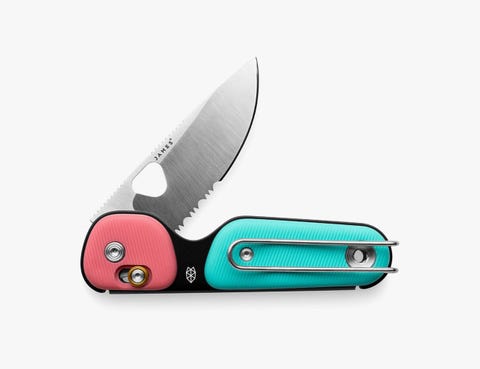 The James Brand
Perhaps it's fitting that the Redstone's colors call to mind Hawaii's classic T&C Surf Designs, because it's all about the islands. Specifically, those isolated pink and blue pods, which allow a finger to rest betwixt, providing superior grip when using the slide-lock design to deploy the Sandvik 12C27 stainless steel blade. That comes in handy whether you're whittlin' wood or, sure, scrapin' surf wax.
Price: $89
Benchmade Shorthand Pen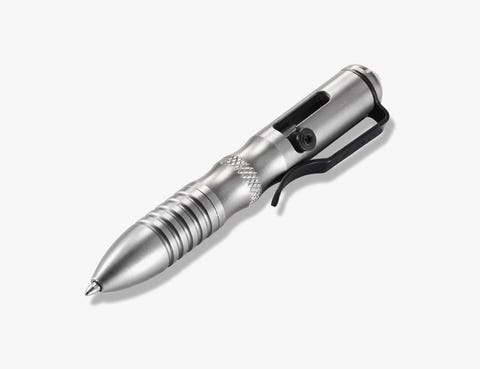 Benchmade
Who says print is dead? Not Benchmade, which is doing its part to keep the written word alive via this slick little pen, complete with precision-machined knurling, bolt-action tip deployment and Fisher Space Pen Cartridges, which work just about anywhere. The 3.49-inch stylus is available in both 303 stainless steel and black 6061-T6 aluminum, and the brand also offers 4.62-inch longhand versions.
Price: $150+
Helle Temagami 14C28N Limited Edition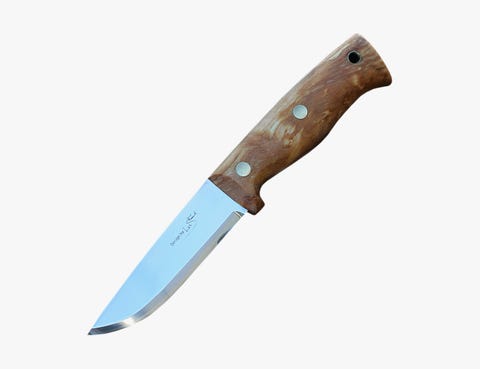 KnifeWorks
There's a reason Helle has teamed up with Survivorman creator Les Stroud for nigh on a decade: dude is a legit wilderness expert, and his knife designs are proof. Honoring the long partnership, this fixed blade boasts such a fire-starting-friendly 90-degree sharp spine and a half-full tang construction, which is better suited to cold climates like Stroud's stomping grounds: Ontario, Canada.
Price: $189
HEAdesigns Anchor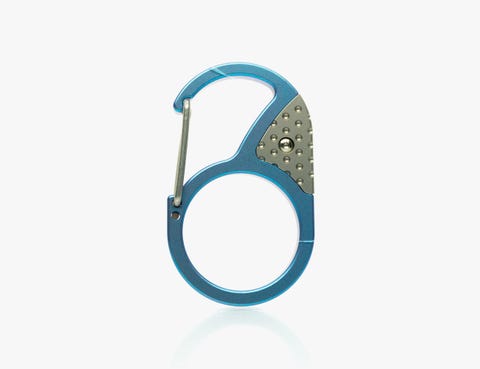 HEAdesigns
When his go-to key-holding carabiner broke down and he "couldn't find anything cool, compact, and useful" with which to replace it, HEA founder and lead designer Sam Abdelrahman set out to craft his own. Available in titanium and carbon fiber, this secure, ultralight beauty can be opened with one hand, while the oversized hole slips over a finger for easy carrying when that hand is full.
Price: $69
This content is created and maintained by a third party, and imported onto this page to help users provide their email addresses. You may be able to find more information about this and similar content at piano.io