8 hr 19 min ago
Ukrainian armed forces and separatists report shellfire in Donbas region
From CNN's Tim Lister in Kyiv, Nathan Hodge and Uliana Pavlova in Moscow, and Katie Polglase and Gianluca Mezzofiore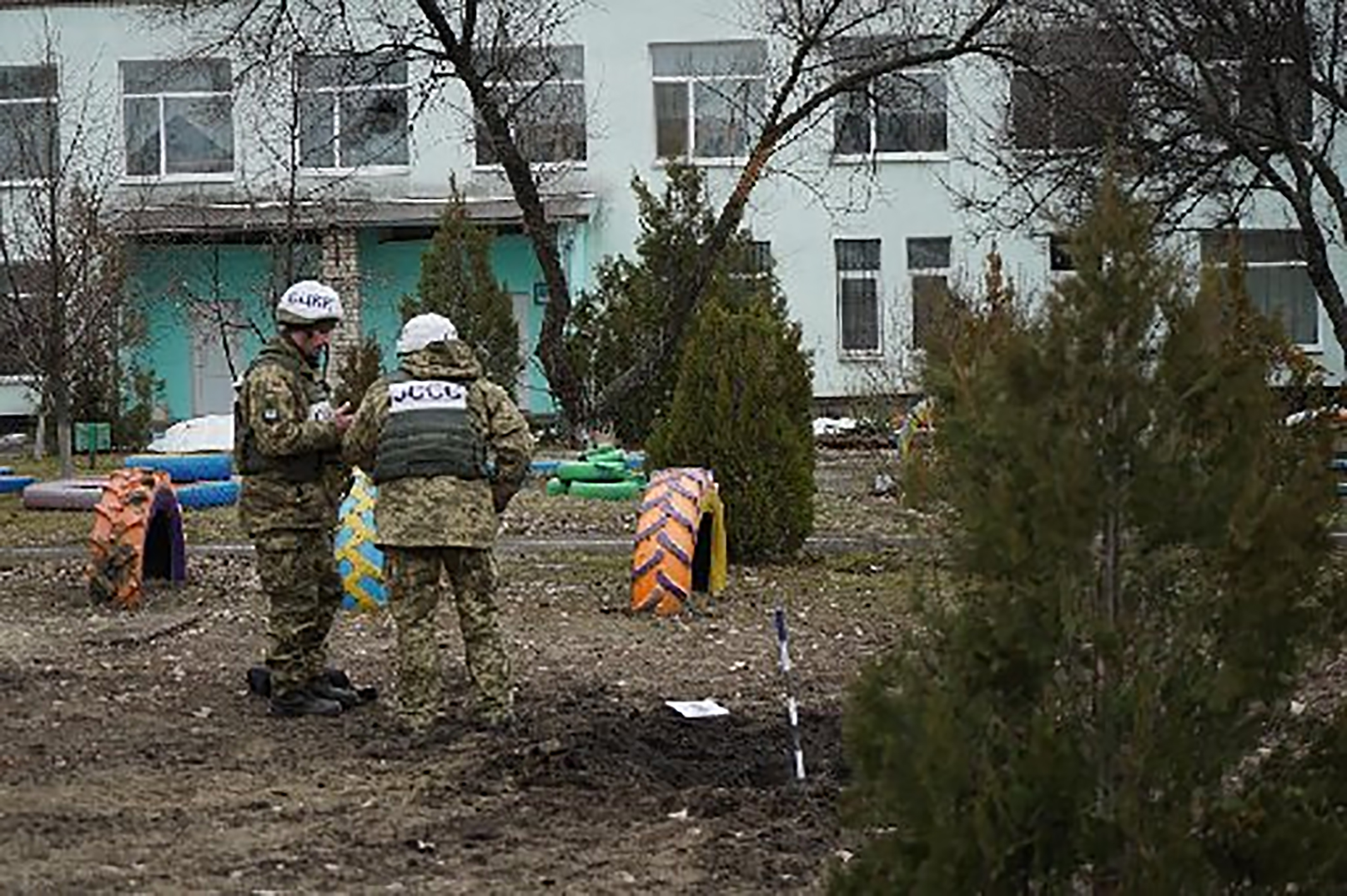 Both Ukrainian armed forces and separatists controlling parts of eastern Ukraine spoke of renewed shelling in the region early Thursday.
Video and images confirmed by CNN show that a pre-school in Ukrainian-controlled territory was hit by a shell Thursday.
The Ukrainian armed forces said that "Russian occupation troops shelled the settlement of Stanytsia Luhanska."
As a result of the application of heavy artillery weapons by terrorists, the shells hit the kindergarten facility. According to preliminary data, two civilians received injuries."
In a statement on Twitter, Dmytro Kuleba, Ukraine's foreign minister, said the village of Stanytsia Luhanska "was shelled with heavy weapons from the occupied territory of the Donbas. Civilian infrastructure damaged. We call on all partners to swiftly condemn this severe violation of Minsk agreements by Russia amid an already tense security situation."  
Kremlin spokesperson Dmitry Peskov on Thursday said the reports of shellfire were a matter of "very, very deep concern" but added that there were no plans to discuss the matter with the Ukrainian government.
"We have repeatedly warned that the excessive concentration of the armed forces of Ukraine in the vicinity of the lines of contact, combined with possible provocations, could pose a terrible threat," Peskov said.
"We now see that these provocations are underway, we see reports from representatives of the [separatists] republics that there is an exchange of blows on the lines of contact, and that the first blow came from Ukraine, this is alarming. We hope that our opponents from Western capitals, the United States, and NATO countries will use all their influence to warn the Kyiv authorities about further escalation," he added.
CNN has established that the school is less than five kilometers (about three miles) from what is known as the Line of Contact, which separates the two sides. CNN has not established who initiated the exchange of fire.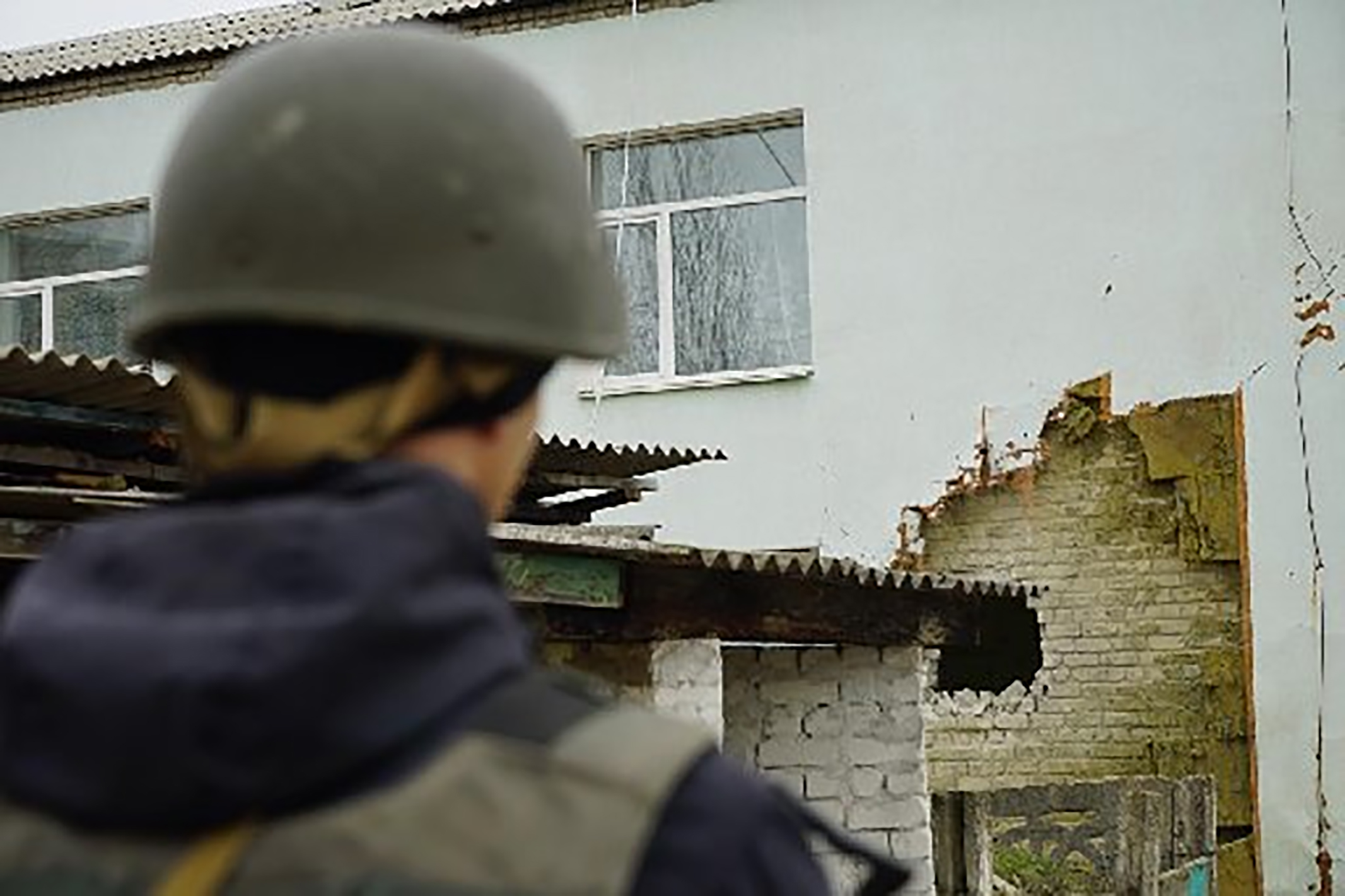 Pro-Russian separatists said different residential areas had come under fire from the Ukrainian military, near Donetsk and Luhansk.
CNN contacted a resident of Mariinka near Donetsk who had posted a video that included the sound of heavy explosions early Thursday.
She told CNN that the worst period was between 8:00 a.m. and 9:00 a.m. local time. She said people were staying indoors.
Violations of the ceasefire agreement in the region occur regularly, sometimes involving the use of heavy weaponry. 
Correction: An earlier version of this post included the wrong distance of the school from the frontlines. The school is less than five kilometers from the Line of Contact.
12 hr 15 min ago
Moscow wants to reach a diplomatic solution to the crisis, says Italian foreign minister
 From CNN's Hada Messia in Rome and Niamh Kennedy
Russian Foreign Minister Sergey Lavrov has given assurances that Moscow wants to find a diplomatic solution to the tensions with Ukraine, his Italian counterpart said Thursday.  
Speaking during a joint press conference in Moscow, Italian Foreign Minister Luigi Di Maio stressed Russia is "fully willing to find a diplomatic solution to this crisis," and added that dialogue  is "essential." 
Di Maio welcomed Lavrov's announcement that Moscow will send a response to the US on Thursday regarding security guarantees, calling it a "very good sign." 
He also announced that Italian Prime Minister Mario Draghi will meet with Russian President Vladimir Putin soon. The two foreign ministers are working to arrange a date for this meeting, Di Maio added. 
"I want to reiterate that Italy strongly supports the territorial integrity and full sovereignty of Ukraine, including its international political choices," Di Maio emphasized. 
12 hr 26 min ago
Russia says its units are going home after exercises near Ukraine. Evidence suggests otherwise
From CNN's Tim Lister, Paul P. Murphy, Gianluca Mezzofiore and Katie Polglase
Don't Trust — Do Verify: That's the unofficial mantra from Western officials in response to Russia's declarations that some of their units that have been encircling Ukraine are now returning to base.
Russia appears keen to prove those declarations to the world through well-produced videos distributed by the Ministry of Defense on Tuesday and Wednesday.
In several of those videos, units from the Southern and Western Military Districts were said to be going back to base from Crimea after completing their exercises there. Traffic heading east across the bridge over the Kerch Strait included tanks, infantry fighting vehicles and fuel trucks, which supported the units.
Filmed from multiple angles, the videos were designed to reinforce what the Kremlin has insisted all along: that an invasion of Ukraine is not and never has been on its agenda.
"Southern Military District troops, which have completed their tasks as part of planned tactical exercises at combined arms ranges on the Crimean peninsula, have begun to return to their permanent deployment points," the ministry said Tuesday.
But two of the units leaving, according to Russian newpaper Izvestia, were elements of the 3rd and 150th Motor Rifle Divisions. They are based close to Ukraine at Rostov-on-Don and Belgorod respectively, a short drive from the border. When those units get home, they will be closer to Ukraine than they were in Crimea.
Other Russian footage from Tuesday — including drone shots — showed the elaborate departure of T72 tanks from an unidentified rural area.
CNN geolocated the location to a training ground near Otreshkovo, a Russian village some 120 kilometers (around 75 miles) from the border. But the direction the departing tank convoy was taking is far from conclusive.
The video shows tanks heading in two different directions, both to a railway station and to the training ground.
Read the full story: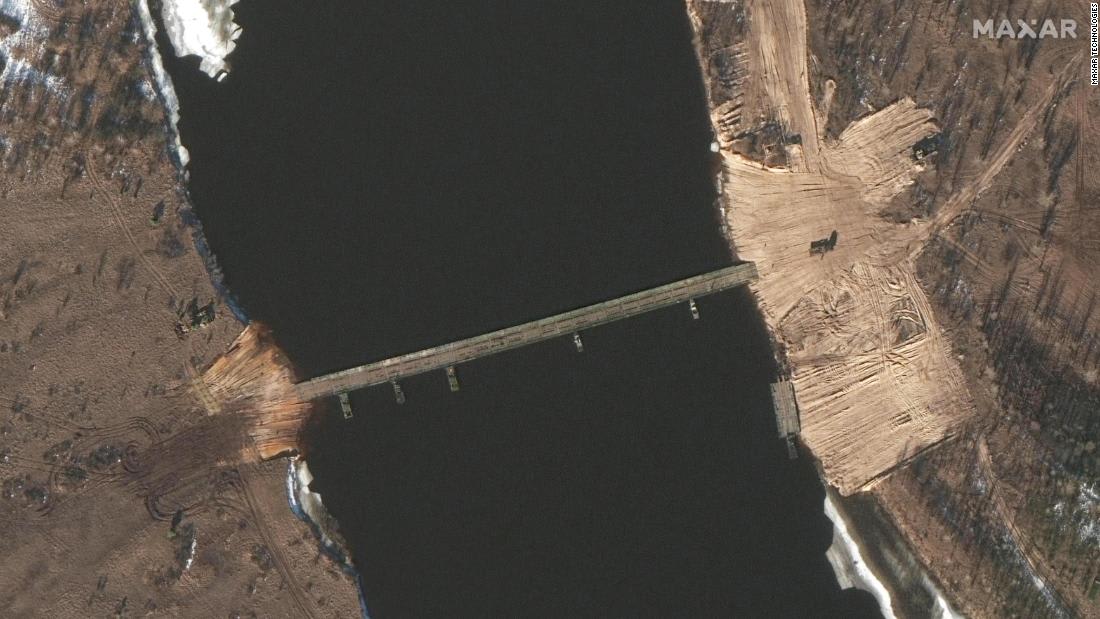 12 hr 33 min ago
NATO has "not seen any sign of withdrawal or de-escalation" by Russia, says the alliance's Secretary-General
From CNN's James Frater and Niamh Kennedy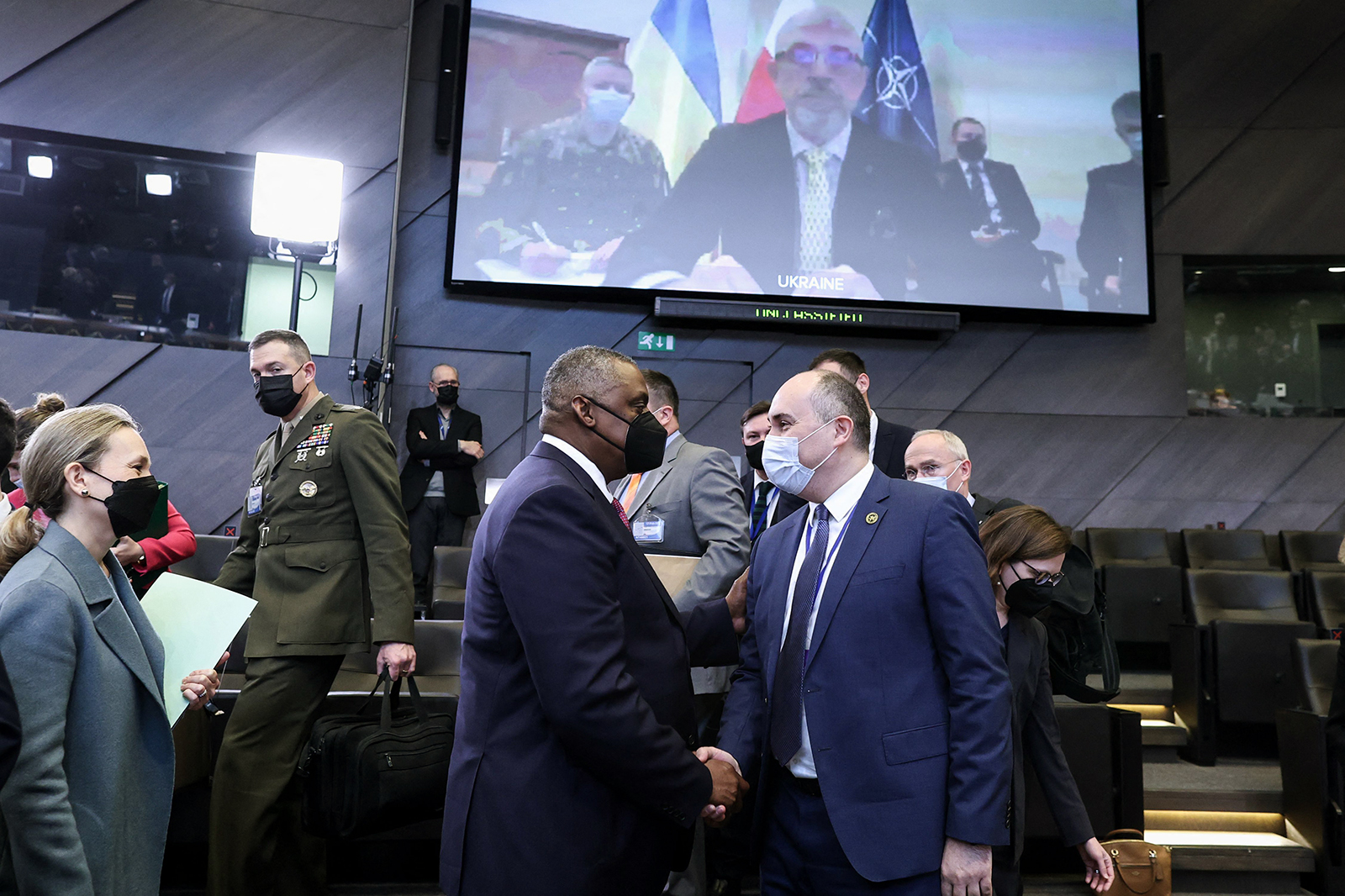 NATO has "not seen any sign of withdrawal or de-escalation" by Russia, NATO Secretary-General Jens Stoltenberg warned Thursday, calling the present situation a "new normal" as he countered claims from Moscow it was pulling back.
Speaking in Brussels in advance of meetings with NATO defense ministers and US Defense Secretary Lloyd Austin, the NATO chief remarked that "as we are meeting today, peace and stability in the Euro-Atlantic area is under threat."
There are signs from Moscow that diplomacy could continue, but so far we have not seen any sign of withdrawal or de-escalation," Stoltenberg said.
On Thursday, the Russian Ministry of Defense announced that units of the Southern and Western military districts, which completed combat training tasks as part of military exercises, "have already begun loading into railroad transport and began moving to their military garrisons."
Stoltenberg said Thursday that Russia continues to demonstrate "its disregard for the principles underpinning European security," describing the present situation as a "new normal which we need to be prepared for." 
12 hr 46 min ago
Western tensions with Russia over Ukraine boil over in Chinese social media
From CNN's Beijing bureau 
Heated tensions between Russia and the West on Ukraine — and the battle to win global public opinion — boiled over on Chinese social media this week after British Prime Minister Boris Johnson's verified Weibo account urged Russia to "avoid decisions that would be disastrously wrong for the country."
We are on the edge of a cliff, but President [Vladimir] Putin still has time to step back and think. We urge everyone to engage in dialogue — the Russian government should avoid decisions that would be disastrously wrong for the country," Johnson's verified Weibo account posted in Mandarin on Tuesday.
Responding to Johnson's post, the verified account of the Russian Embassy in Beijing — also writing in Mandarin — on Wednesday called the comments "absurd" and another example of "the West's information war," calling the statement "designed to further stoke the hysteria it has manipulated over an alleged 'imminent Russian invasion of Ukraine.'"
The embassy said Russia hasn't carried out any major military activities and that its troops were stationed on its territory and "posed no threat to anyone," it said in another post. 
"If the West is truly committed to reducing the military danger, it should be concerned about the actions of Ukraine and its patrons, because they are the ones who have created it. The continued military development by NATO countries on Ukrainian territory by supplying Ukraine with large quantities of weapons is an example of the escalation of the situation," the Russian embassy added in the post. 
Since Tuesday, the spat sparked strong interest on Chinese social media, propelling the hashtag "British Prime Minister" to become a trending topic on Weibo. 
China has publicly backed Russia's demand that NATO halts further expansion eastward following a summit in Beijing between the two country's leaders ahead of the Winter Olympics.
13 hr 13 min ago
Some Russian military units are returning to their garrisons, says Russia's Ministry of Defense
From CNN's Radina Gigova, Akanksha Sharma, and Tim Lister 
Russia's Ministry of Defense said Thursday units of the Southern and Western military districts, which completed combat training tasks as part of exercises, "have already begun loading into railroad transport and began moving to their military garrisons," adding "separate units will march on their own in military columns."
These are the latest of several announcements from the Russian Ministry of Defense on units returning to their bases at the end of military drills. The announcement comes as Western officials allege that Russia is continuing its military build-up around the Ukrainian border.  
Thursday's statement added that a military train with personnel and military equipment of tank army units of the Western Military District (ZVO) "began moving to the point of permanent deployment following the completion of planned exercises at the training site."
The ministry said the relocation of tanks and armored vehicles is conducted by rail over a distance of about 1,000 kilometers (621 miles), without providing any details about the location of the train nor its destination.
Upon arrival at the point of permanent deployment, the military personnel will have to carry out maintenance of military equipment and prepare it for further planned winter combat training activities," the ministry said.
In a separate statement published earlier Thursday, the ministry said units of the brigade of logistical support of the Western military district arrived at the point of permanent deployment, after the completion of planned exercises. It did not provide specific locations for the movement or the duration of the exercise.
"Units of the Western Military District's logistics brigade completed a 900-kilometer march from the planned exercise site and arrived at the permanent location," the ministry said. The convoy consisted of "more than 40 heavy trucks with personnel, specialized equipment and military equipment."
CNN has been unable to confirm if the latest Russian Ministry of Defense statements accurately reflect the situation on the ground. 
Some context: Western officials have expressed skepticism about Russian announcements that some of the troops assembled close to the border with Ukraine are returning to their bases.
New satellite images from Maxar Technologies on Wednesday showed that in several regions near Ukraine, Russian forces are consolidating and adding to their positions. Several units that had been gathered in camps in southern Belarus have been dispersed.
Russian forces massed along Ukraine's borders have increased by about 7,000 troops in recent days, the United States alleged Wednesday.
13 hr 26 min ago
Bipartisan resolution condemning Russia's actions toward Ukraine could get a vote as soon as today
From CNN's Ellie Kaufman and Lauren Fox
A bipartisan resolution condemning Russia's aggression and actions towards Ukraine could get a vote on the Senate floor as soon as Thursday, according to Democratic Sen. Tim Kaine, a member of both the Senate Armed Services and Senate Foreign Relations Committee.
"You could see there being a consensus," Kaine said.
The resolution is being offered after talks about a bipartisan sanctions bill halted when Republican Sen. Jim Risch, ranking member of the Foreign Relations Committee, introduced a Republican-only Russia sanctions bill on Tuesday.
Now there is an effort among bipartisan senators to come to an agreement on some language condemning Russia's actions against Ukraine to show broad support among Democrats and Republicans for Ukraine while tensions remain extremely high between the two countries. The main proposal being floated is a joint resolution led by Democratic Sen. Jeanne Shaheen and Republican Sen. Rob Portman, but Risch said several proposals are being floated. 
Risch said there was a "legitimate disagreement" on the extent of sanctions proposed by Democrats and Republicans. 
"I suspect and I predict that if there's an invasion," of Russia into Ukraine, "my bill is going to become very, very popular," Risch said, referring to the Russian sanctions bill he introduced on Tuesday.
More context: A group of senators are traveling to Germany on Thursday for the Munich Security Conference, where several world leaders, including Ukrainian President Volodymyr Zelensky and Vice President Kamala Harris, Secretary of State Antony Blinken, German Chancellor Olaf Scholz and other heads of state and ministers, will be in attendance.
Kaine believes senators traveling to the conference want to show some kind of support for Ukraine before heading overseas, which is why it's possible the resolution could come tomorrow.
"We've got a bunch of colleagues going to Munich, and I suspect that they would like to have something," Kaine said.
13 hr 18 min ago
Kremlin will send a response to the US on security guarantees today, says Russian foreign minister
From CNN's Sarah Dean in Moscow and Nada Bashir
Russian Foreign Minister Sergey Lavrov said Moscow will send its response to the US on security guarantees on Thursday, following a meeting with his counterpart Luigi Di Maio in Moscow.
Lavrov said Moscow will also make the letter public.
"Now we are finalizing our analysis on the American letter, and we hope in the nearest future you will find out how the situation unfolds. At the very least, we will send our reply back to the US today," Lavrov said.
We will make this letter public. We believe it is absolutely necessary interested members of the civil society in our countries [to] have an idea of what is going on, understand each parties' position. Because otherwise, if this correspondence is kept secret as our colleagues in Washington and Brussels prefer, public opinion will be polluted by the lies and propaganda that currently clutters the news agenda when it comes to the assessment of what is happening in Europe and along the Ukraine-Russia border," he added.
This comes weeks after the US gave Moscow its written response aimed at deterring a Russian invasion of Ukraine. The written document was intended to address concerns Moscow has publicly released and to outline areas where the US has said it sees potential for progress with Russia — arms control, transparency and stability, the top US diplomat told reporters at the State Department at the end of January.
This post has been updated.
14 hr 6 min ago
Is Putin creating a pretext for war?
Analysis by CNN's Nathan Hodge in Moscow
Russian President Vladimir Putin is a man who likes to keep his options open, and the Ukraine crisis is no exception: As the Kremlin leader signals his willingness to engage on the diplomatic front, he is also bolstering a case for war.
Take the situation in Donbas, the territories in eastern Ukraine partly controlled by Russian-backed separatists. In a press conference with German Chancellor Olaf Scholz on Tuesday, Putin dropped the "g" word to describe the situation there.
"According to our estimates, what is happening in the Donbas today is genocide," Putin said.
Scholz pushed back, later telling reporters that Putin was "wrong" to use the term. But those comments were already out in the public realm — and Putin had stepped up the rhetoric.
Putin's grievance in the Donbas isn't new. He has spoken repeatedly about what he describes as the violation of the rights of ethnic Russians and Russian speakers in Ukraine, and has stated that it is within Russia's rights to intervene militarily to protect them.
But Putin appears to be making a case for his own version of a "responsibility to protect," however distant the situation in Donbas may be from a Rwanda — where over 800,000 people, mostly Tutsis, were killed over the course of 100 days in 1994 — or Srebrenica — where more than 7,000 mostly Muslim men and boys were slaughtered in 1995.
Invoking genocide echoes Russia's false claim that its neighbor, Georgia, committed genocide against civilians in the breakaway republic of South Ossetia in August 2008. During that brief conflict, Russia launched a massive military incursion that pushed deep into Georgian territory, a scenario that worries Western policymakers today when it comes to Ukraine.
The Investigative Committee, Russia's top law enforcement body, took Putin's comments a step further on Wednesday when it announced it had opened a criminal investigation into alleged evidence of what it called "indiscriminate shelling" of civilians in the Donbas region by Ukrainian forces since 2014.
Read the full story here: