3 hr 37 min ago
US secretary of state to United Nations: "I am here today not to start a war, but to prevent one"
US Secretary of State Antony Blinken said he was speaking to the United Nations about Russia and Ukraine "not to start a war, but to prevent one."
"I am here today not to start a war, but to prevent one. The information I presented here is validated by what we've seen unfolding in plain sight before our eyes for months. And remember that while Russia has repeatedly derided our warnings and alarms as melodrama and nonsense, they've been steadily amassing more than 150,000 troops on Ukraine's borders as well as the capabilities to conduct a massive military assault. It isn't just us seeing this. Allies and partners see the same thing," Blinken said.
He urged Russia to use diplomacy as a solution to the crisis.
"And Russia isn't only hearing from us. The international chorus has grown louder and louder," the US official said. "If Russia doesn't invade Ukraine, then we will be relieved that Russia changed course and proved our predictions wrong. That would be a far better outcome than the course we're currently on, and we'll gladly accept any criticism that anyone directs at us."
Blinken said he sent a letter to Russian Foreign Minister Sergey Lavrov proposing they meet next week in Europe. He is also proposing meetings of the NATO-Russia Council and the Organization for Security and Co-operation in Europe.
"These meetings can pave the way for a summit of key leaders in the context of deescalation to reach understandings on our mutual security concerns. As lead diplomats for our nations, we have a responsibility to make every effort for diplomacy to succeed, to leave no diplomatic stone unturned," he said.
He said Russia will likely respond with dismissals that the US is "stoking hysteria."
"The Russian government can announce today with no qualifications, equivocation or deflection that Russia will not invade Ukraine, stated clearly, stated plainly to the world — and then demonstrate it by sending your troops, your tanks, your planes, back to hangars and sending diplomats to the negotiating table. In the coming days, the world will remember that commitment. Or the refusal to make it," he concluded.
3 hr 40 min ago
Blinken outlines ways Russia may target Ukraine, including "plans to manufacture a pretext for its attack"
US Secretary of State Antony Blinken addressed misinformation that he said Russia continues to spread as it targets Ukraine and possible ways Moscow may attack, saying he hoped to "influence Russia to abandon the path of war and choose a different path while there's still time."
"We don't know precisely how things will play out. But here's what the world can expect to see unfold," Blinken said.
"First, Russia plans to manufacture a pretext for its attack. … We don't know exactly the form it will take. It could be a fabricated so-called terrorist bombing inside Russia. The invented discovery of the mass grave, a staged drone strike against civilians or a fake, even a real attack using chemical weapons," he said.
"Russia may describe this event as ethnic cleansing or a genocide, making a mockery of a concept that we in this chamber do not take lightly, nor do I take lightly based on my family history. In the past few days, Russian media has already begun to spread some of these false alarms and claims to maximize public outrage, to lay the groundwork for an inventive justification for war. Today, that only intensified in Russia's state controlled media. We've heard the allegations from Russian backed speakers here today," Blinken continued.  
Then, he said, "the highest levels of the Russian government may theatrically convene crisis and Russia must respond to defend citizens or ethnic Russians in Ukraine."
There may be conventional attacks, or they could take the form of cyberattacks and could target specific groups of Ukrainians, he said.
He also warned that Russia is planning to "target specific groups of Ukrainians."
CNN's Michael Conte, Jennifer Hansler and Christin Sierra contributed reporting to this post.
4 hr 9 min ago
Russia-Ukraine crisis is a "moment of peril," US secretary of state says in UNSC address
US Secretary of State Antony Blinken called the Ukraine-Russia crisis a "moment of peril" while addressing the United Nations Security Council in New York Thursday.
"The most immediate threat to peace and security is Russia's looming aggression against Ukraine. The stakes go far beyond Ukraine. This is a moment of peril for the lives and safety of millions of people as well as for the foundation of the United Nations charter and the rules-based international order that preserves stability worldwide," Blinken said.
"We must address what Russia is doing right now to Ukraine," he said.
Blinken said that intelligence clearly indicates that the buildup of Russian forces signals an attack against Ukraine in "the coming days."
1 hr 23 min ago
NOW: US Secretary of State Blinken addresses UN Security Council
From CNN's Veronica Stracqualursi, Jeremy Herb, Ellie Kaufman and Kylie Atwood
Secretary of State Antony Blinken is addressing the United Nations Security Council as Ukraine-Russia tensions continue to unfold and the US warns an invasion could be near.
"Every indication that we have is that they are prepared to go into Ukraine, attack Ukraine," President Biden told reporters as he left the White House on Thursday.
Russia expelled the second-most senior diplomat at the US embassy in Moscow without any justification Thursday, in what the Biden administration views as an escalatory move, the State Department said.
US Ambassador to the UN Linda Thomas-Greenfield said Blinken was addressing the UN because "this is a crucial moment."
Meanwhile, US Secretary of Defense Lloyd Austin today also said the US government is not seeing any kind of withdrawal of Russian troops from Ukraine's border, instead seeing Russia adding to its capabilities and troops "even in the last couple of days."
During a press conference at NATO headquarters in Brussels, Austin said the US is seeing Russia move some troops closer to the border, "fly in more combat and support aircraft," "sharpen their readiness in the Black Sea" and even "stocking up their blood supplies.
4 hr 10 min ago
Russia expels deputy chief of mission at US embassy in Moscow, which the US calls "an escalatory step"
From CNN's Kylie Atwood and Jennifer Hansler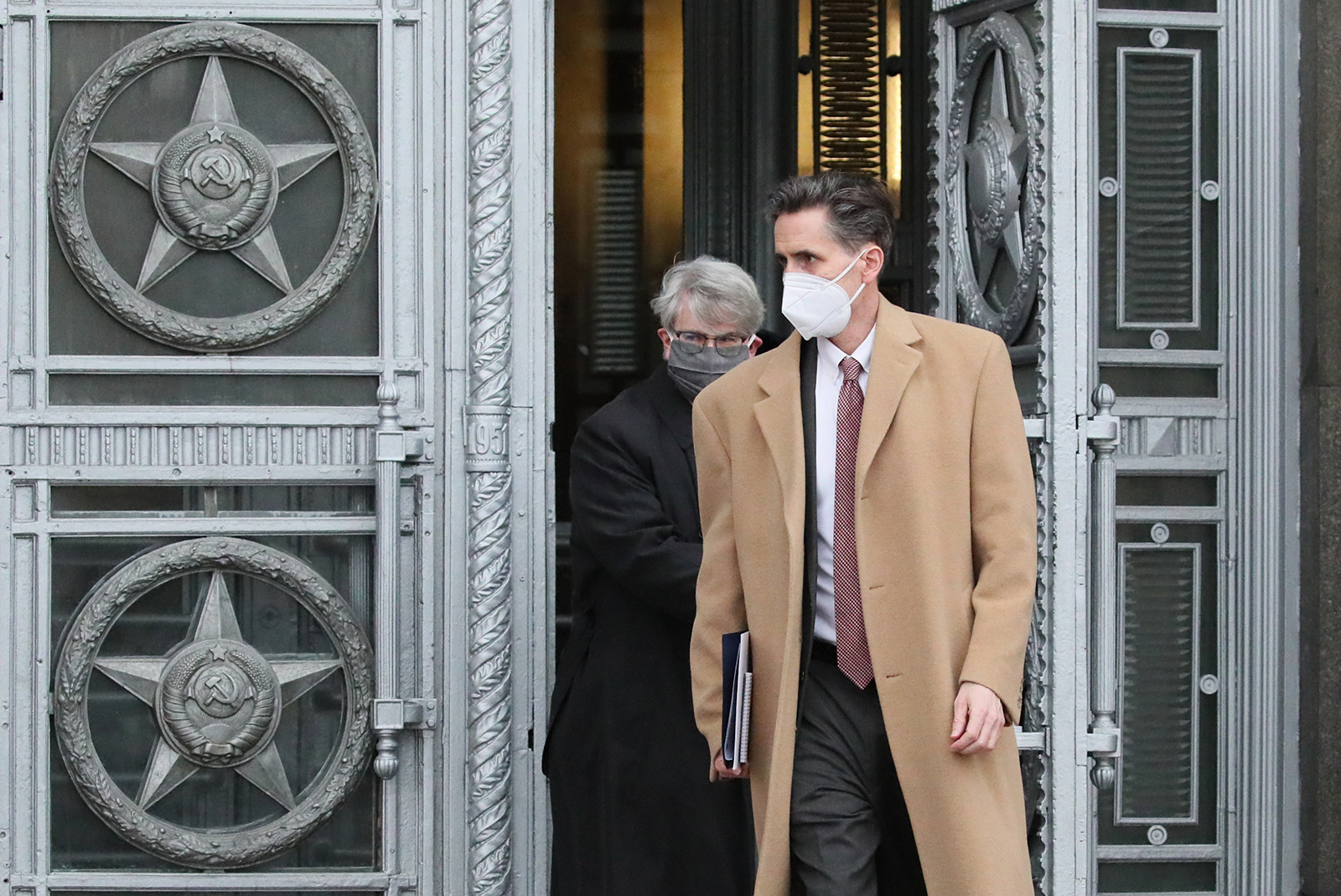 Russia expelled the second-most senior diplomat at the US embassy in Moscow without any justification in what the Biden administration views as an "escalatory" move, the State Department said on Thursday. 
"We can confirm that Russia expelled US Deputy Chief of Mission (DCM) to Russia Bart Gorman. DCM Gorman was the second-most senior official at U.S. Embassy Moscow after the Ambassador and a key member of the Embassy's senior leadership team," a State Department spokesperson said. 
Gorman departed Moscow last week, according to a senior State Department official, and returned to the US. He was expelled by Moscow earlier this year and was given two weeks to depart.
The US is considering its response.
"Russia's action against our DCM was unprovoked and we consider this an escalatory step and are considering our response," the spokesperson said. 
This diplomatic issue comes to the fore amid growing concerns about a Russian invasion of Ukraine.
More background: Russia has continually forced the US to reduce the size of its diplomatic footprint in the country in recent years. Gorman's tour in Russia had not ended, he had a valid visa, and he had been in Russia less than three years, the spokesperson added. 
"We call on Russia to end its baseless expulsions of U.S. diplomats and staff and to work productively to rebuild our missions. Now more than ever, it is critical that our countries have the necessary diplomatic personnel in place to facilitate communication between our governments," the spokesperson said. 
4 hr 12 min ago
Russia's formal response to US published by state media: US and NATO military activity close to Russian borders "is alarming"
From CNN's Uliana Pavlova and Sarah Dean in Moscow
Moscow said "increasing US and NATO military activity close to Russian borders is alarming" in its 11-page formal response published by state news agency RIA-Novosti to a written document from the United States over Russia's security demands.
The written response, which was handed to US Ambassador John J. Sullivan at the Russian Ministry of Foreign Affairs on Thursday, said: 
"We state that the American side did not give a constructive response to the basic elements of the project prepared by the Russian side agreements with the United States on security guarantees. It's about giving up the further expansion of NATO, about the withdrawal of the 'Bucharest formula', whereby 'Ukraine and Georgia will become members of NATO', and the refusal to create military bases on the territory of states formerly part of the USSR and non-members of the NATO alliance, including the use of their infrastructure to conduct any military activity, and the return of NATO military capabilities, including strike capabilities, and infrastructure to the 1997 status, when the NATO-Russia Founding Act was signed. These stipulations are of fundamental importance to the Russian Federation." 
The response also said that US and NATO military activity in the region is "alarming." 
"Our 'red lines' and core security interests, as well as Russia's sovereign right to protect them, continue to be ignored. Ultimate demands to withdraw troops from certain areas on Russian territory, accompanied by threats of tougher sanctions, are unacceptable and undermine the prospects for reaching real agreements," it said.
Some more background: The US received the response from Russia today after the US gave a written document to Russia three weeks ago, a senior State Department official said.
The written document that the US gave to Russia had set "out a serious diplomatic path forward should Russia choose it," US Secretary of State Antony Blinken said in January. 
Russian forces massed along Ukraine's borders have increased by approximately 7,000 troops in recent days, the United States alleged Wednesday evening, despite claims from Moscow it was pulling back.
CNN's Kylie Atwood and Kevin Liptak contributed reporting to this post.
1 hr 3 min ago
Officials: Almost half of Russia's battle groups surrounding Ukraine now within about 31 miles of the border
From CNN's Nick Paton Walsh in Rzeszow, Poland
Russia is continuing to build up its forces around the Ukrainian border, with up to nearly half of Moscow's battle groups surrounding Ukraine now within 50 kilometers (about 31 miles) of the border, Western officials said Thursday.
Speaking during an intelligence briefing, the officials said that Russia retains "exceptional force" on Ukraine's border and has the military mass in place to conduct an invasion of Ukraine, adding that of the 14 battlegroups believed to have been in transit toward the border earlier in the week, a significant number have now arrived in place.
In addition to the buildup of troops, the officials noted the construction of a pontoon bridge over the past 72 hours, which they described as being highly unusual and inconsistent with any past military exercises.
They also noted three additional vessels arriving at dock in Crimea and the addition of military vehicles and helicopters in Valyiuki in southwest Russia, which is 25 kilometers (about 15.5 miles) from Ukraine's border. 
Responding to reports by both the Ukrainian armed forces and separatists controlling parts of eastern Ukraine of renewed shelling in the Donbas region early Thursday, the Western officials said their sensors did not pick up evidence to support the use of artillery. 
The officials added that there have been routine exchanges for several years, but said that they have seen no evidence to support a spike at present. 
5 hr 8 min ago
Biden administration believes Russia may use UNSC meeting as part of a pretext for a potential invasion
From CNN's Kylie Atwood and Michael Conte
The Biden administration believes that Russia could try to use the meeting at the UN Security Council (UNSC) today "as part of an attempt to establish a pretext for a potential invasion," said a senior administration official, adding that Russia circulated a document with false claims last night to the countries in the UNSC. 
"Earlier this week, President Putin without any factual basis accused Ukraine of committing genocide in eastern Ukraine. And last night, the Russian Mission to the United Nations circulated to the members of the Security Council, a document it calls 'a joint project of the Investigative Committee of the Russian Federation and RT news channel,' which alleges that war crimes have been committed in the course of the armed conflict in southeastern Ukraine. Each of these allegations are categorically false," the official said. "I expect that you will hear Russia repeat these claims in today's meeting, and we should expect more false reports from Russian state media over the coming days." 
Secretary of State Antony Blinken decided overnight to attend the meeting, after a series of meetings between the White House, the State Department and the National Security Council, the US Ambassador to the UN said Thursday morning. 
When asked about the reports of shelling in the Donbas overnight the official said they were "hesitant to speak to any particular new fact that has come in in just the last few hours" but pointed to the wide-ranging false comments from Russia in recent days.
The official also said that: "What we have been saying now for a number of weeks is that we have indications that Russia could launch a false pretext at any moment to help justify an invasion of Ukraine. And that pretext could take a number of different forms. It could be a provocation in the Donbas. It could be a claim about NATO activity. It could be a claim of an incursion into Russian territory. And we've already seen over the last few days a number of false claims by Russia, including as I mentioned the reports of an unmarked grave of civilians allegedly killed by the Ukrainian armed forces. We've seen statements that the US and Ukraine are developing biological or chemical weapons, and that the west is funneling, you know, guerilla fighters in to kill locals in the Donbas. Each of these allegations is categorically false."
There has been a substantial uptick in claims of violations of ceasefire — by both sides.
Luhansk and Donetsk are working overtime to accuse Ukrainians of all sorts of nefarious plans. Among the allegations: Heavy weapons being brought forward, anti-tank missiles being used and Ukrainian President Volodymyr Zelensky directly ordering offensive action. No evidence, however, has advanced so far, in terms of civilian casualties or heavy duty attacks.
5 hr 28 min ago
After delivery of formal response to US, Russia says proposals were "ignored" and "will be forced to respond"
From CNN's Uliana Pavlova in Moscow
The Russian Ministry of Foreign Affairs issued a statement following the delivery of Russia's formal response to a written document from the US over Russia's security demands.
The statement said, "On February 17 of this year, US Ambassador J. Sullivan, invited to @MID_Russia [the Russian MFA], was given a reaction to the previously received American response on the Russian draft treaty between Russia and the United States on security guarantees." 
The statement was posted on the ministry's Telegram account:
"❗ We state that the American side did not give a constructive response to the basic elements of the draft treaty with the United States prepared by the Russian side on security guarantees.
The package nature of Russian proposals was ignored, from which "convenient" topics were deliberately chosen, which, in turn, were "twisted" in the direction of creating advantages for the United States and its allies.
The growing military activity of the United States and NATO directly at Russian borders is alarming.
☝️ In the absence of the readiness of the American side to agree on firm, legally binding guarantees to ensure our security from the United States and its allies, Russia will be forced to respond, including through the implementation of military-technical measures."