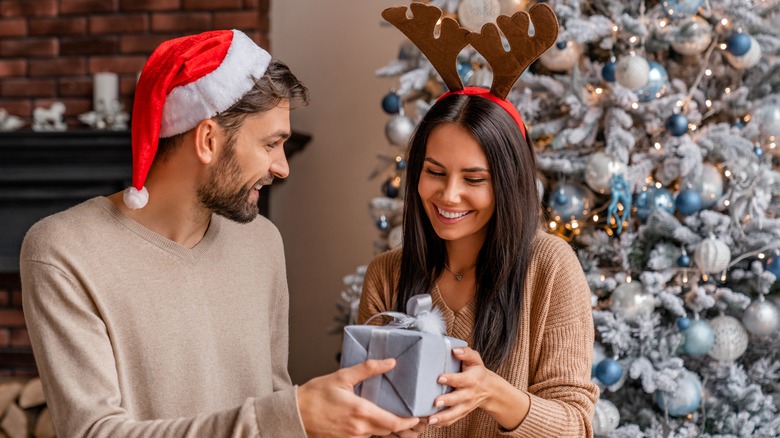 Inside Creative House/Shutterstock
With holidays approaching, shopping has ramped up into high gear. And while shopping for some people on your list is effortless, finding gifts for others isn't so simple. If you are struggling to find a present for that extra picky person on your list, consider their love language. Introduced by Dr. Gary Chapman, the five love languages each have characteristics that define how people like to give and receive love (via Verywell Mind). By selecting gifts based on love language, you are guaranteed to make the recipient feel seen, special, and loved every time.
Of all the love languages, the gift-receiving type is often the most misunderstood. Many believe that gift-receivers set an impossibly high standard when it comes to gifts and that to impress a gift-receiver you have to go above and beyond with your presents. But in fact, gift-receivers value all thoughtful gifts, no matter how big or how small, as long as they are tailored to who they are. "The present itself is nice, but it's really the thought behind it that counts," said relationship coach Julie Nguyen from Mindbodygreen. Gift-receivers prefer receiving gifts that are tangible, items whether its their favorite snack or a book they've had their eye on for a while. That being said, let's get into some gift ideas for the gift-receiver in your life. Happy shopping!
Skylight Picture Frame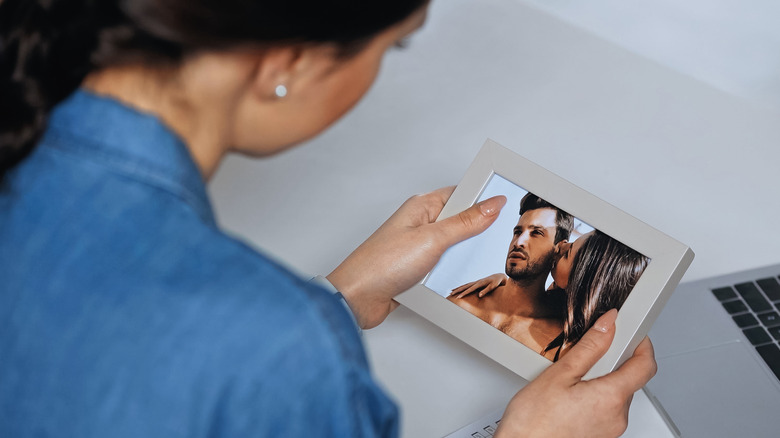 LightField Studios/Shutterstock
If you and your romantic partner are in a long distance relationship, or your best friend lives halfway across the world, a skylight picture frame makes a wonderful sentimental gift, especially for those with a gift-receiving love language (via Gift Willow). Thoughtful and easy-to-use, each photo frame is tied to a one-of-a-kind email address created solely for the skylight picture frame. By using this email, you can send a picture to the recipient's photo frame in seconds. If you have a friend or grandparent who are off social media or extremely not tech-savvy, this gift also makes an ideal choice.
Rather than simply texting and talking on the phone, this special gift is an exciting way to spice up your day-to-day communication with a loved one. Also, nothing puts a smile on someone's face quite like the memory of a really great day, whether you want to send a picture of a monumental milestone, an adventurous vacation, a or a silly moment that was shared between just the two of you. Every time you send the recipient a new photo, you'll be conveying that this person is on your mind. The skylight picture frame is truly the gift that keeps on giving, making this present perfectly tailored towards those with a gift-receiving love language.
A Fanny Pack
When selecting presents for those with a gift-receiving love language, try to narrow in on their hobbies and interests when selecting their gift. For example, everyone has that extra-outdoorsy person in their life. Whether your loved one is an avid hiker or biker, a high-quality fanny pack is a gift that is guaranteed to get a lot of usage. Fanny packs are officially trendy again, and when it comes to material, variety, and color, the options are limitless. However, you can't go wrong with this neon number from Lululemon, as noted by Cosmopolitan. 
The "Everywhere Belt Bag" is made with water-repellent fabric and has multiple easy access pockets that fit all of your essentials including your wallet, keys, and phone. This versatile gift also makes a great present for any busy city-goer, who is constantly out and about and on the move.
A Book Box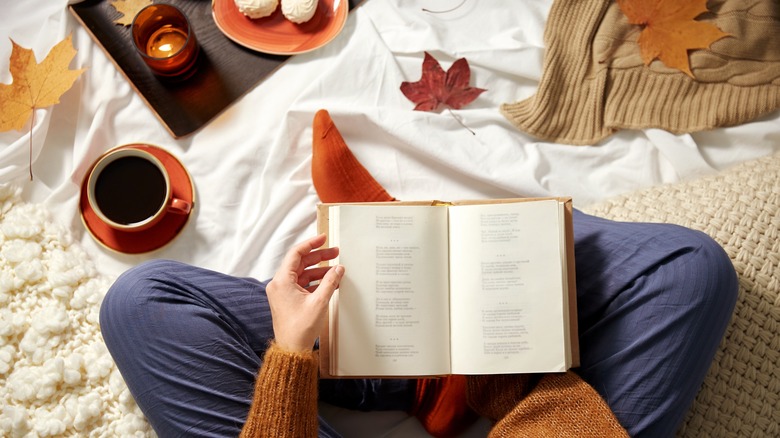 Syda Productions/Shutterstock
There are subscription and gift boxes out there that tailor to every type of interest, from wine to food to skincare. If you're loved one is a big reader, selecting a book by their favorite author or from their go-to genre is always a fool-proof pick. However, if you want to go the extra mile, consider buying your friend or partner an entire box created for book enthusiasts (via Stylecaster). 
In this Reese's Book Club "Gift of Reading" box, you are invited to select one of many best-selling fiction novels to add to your gift basket, from "Untamed" by Glennon Doyle to "Little Fires Everywhere" by Celeste Ng. Once you have selected a novel of your choice and the format of the book (hardcover or paperback), you are all good to go! The rest of the items in the gift box include cozy socks, a plush wrap to snuggle up with, ground coffee, a yummy seasonal snack, and other self-care essentials. Does this sound like a book lover's dream, or what?
A Travel Tote
Are you and your partner going on a big trip next year? Does your bestie have a bad case of the travel bug? Whether your loved one has an upcoming trip planned in 2022 or is constantly planning their next adventure, a new piece of luggage will make an excellent holiday gift, as noted by Style Caster. If you can, try to cater your item towards the type of trip your loved one is going on. If they are going on a weekend getaway, purchase a smaller tote, or if they are traveling with a baby, buying a set of luggage that caters towards young tots would be the way to go.
A tried and true luggage essential for every vacation is "The Naturals Tote" from Béis. This versatile bag comes in both beige and black, and is equipped with interior pockets, external straps for towels, and even a hat clip. Your loved one will be thanking you multiple times throughout their beach vacay!
Espresso Coffee Drinker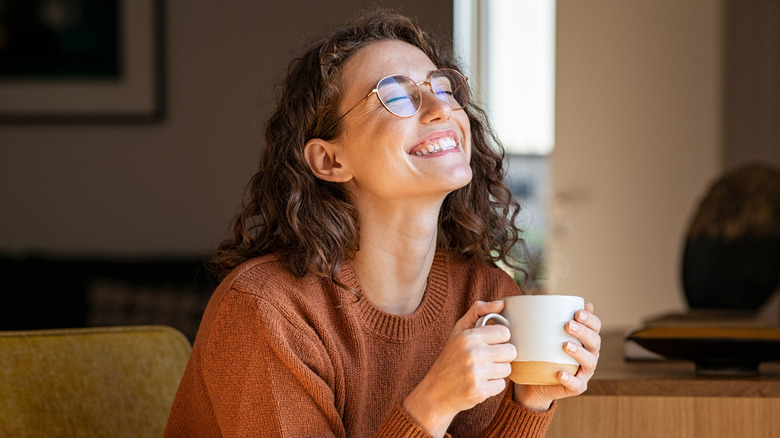 Rido/Shutterstock
Whether they gravitate towards iced coffee or cold brew, we all have that hyperactive friend whose coffee drinking habits are practically a personality trait. If you have a loved one whose coffee obsession rivals Lorelai Gilmore's, you can't go wrong with an espresso coffee maker for the holidays.
Both decorative and easy to use, Bialetti Kitty's stainless steel espresso coffee maker is one stunning option available for purchase, as noted by Cosmopolitan. This beautiful creation can make up to six espresso cups and is suitable for use on gas, electric, and ceramic stove tops. All it takes is three to six minutes to brew up your java before it's ready for serving. To take things up a notch, pair this gift with a cute mug or a bag of coffee beans from your local coffee shop. Your gift-receiving buddy will go bonkers over this personal touch!